<![if !supportEmptyParas]> <![endif]>

Department FTIR Parts and Accessories

<![if !supportEmptyParas]> <![endif]>
<![if !supportEmptyParas]> <![endif]>
<![if !supportEmptyParas]> <![endif]>
<![if !supportEmptyParas]> <![endif]>
<![if !vml]>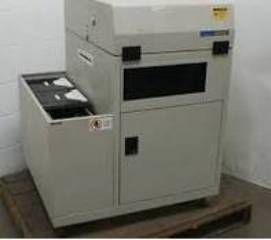 <![endif]>
We offer new or refurbished spare parts for this Nicolet FTIR Spectrometer – ECO 1000.
Some of those parts will fit with ECO 2000 and ECO 3000 as well.
Tested parts with warranty, most of them are on stock.
Purchase on-line or place order.
Contact us for details, current availability and pricing.
<![if !supportEmptyParas]> <![endif]>
| | |
| --- | --- |
| 470-170500, 470-318300, 470-219300 | ECO 1000 - IR Source |
| 05-LSC-707 | ECO 1000 - Laser Unit with power supply |
| 670-107400 | ECO 1000 - Interferometer with alignment part |
| 840-128500 | ECO 1000 - KBr Beamsplitter |
| 470-154700 | ECO 1000 - Detector preamplifier and sensor |
| 470-154800 | ECO 1000 - Detector preamplifier and sensor |
| 410-019400 | ECO 1000 - Electronic Board (OBC) |
| <![if !supportEmptyParas]> <![endif]> | ECO 1000 – PC interface, ISA type (older type) |
| <![if !supportEmptyParas]> <![endif]> | ECO 1000 – PC interface, PCI type (newer type) |
| <![if !supportEmptyParas]> <![endif]> | ECO 1000 – Data cable PC to optics |
<![if !supportEmptyParas]> <![endif]>
<![if !supportEmptyParas]> <![endif]>
<![if !vml]><![endif]>

<![if !vml]><![endif]>

<![if !vml]><![endif]><![if !vml]><![endif]>

Laser unit 05-LSC-707 (on stock)

IR Source 470-170500 (on stock)

<![if !supportEmptyParas]> <![endif]>

<![if !vml]><![endif]>

<![if !vml]><![endif]>

<![if !vml]><![endif]>

<![if !vml]><![endif]>

<![if !vml]><![endif]>

<![if !vml]><![endif]>

<![if !vml]><![endif]>

<![if !vml]><![endif]>
<![if !supportEmptyParas]> <![endif]>
<![if !supportEmptyParas]> <![endif]>
<![if !vml]>

<![endif]>
<![if !supportEmptyParas]> <![endif]>
Nicolet ECO 2000 Parts
<![if !supportEmptyParas]> <![endif]>
(on special request only, contact us)
<![if !supportEmptyParas]> <![endif]>
| | |
| --- | --- |
| <![if !supportEmptyParas]> <![endif]> | ECO 2000 - IR Source |
| <![if !supportEmptyParas]> <![endif]> | ECO 2000 - Detector preamplifier and sensor |
| <![if !supportEmptyParas]> <![endif]> | ECO 2000 - Laser Unit with power supply |
<![if !supportEmptyParas]> <![endif]>
<![if !vml]>

<![endif]>
<![if !supportEmptyParas]> <![endif]>
Nicolet ECO 3000 Parts
<![if !supportEmptyParas]> <![endif]>
(on special request only, contact us)
<![if !supportEmptyParas]> <![endif]>
| | |
| --- | --- |
| 470-184100 | ECO 3000 - IR Source |
| <![if !supportEmptyParas]> <![endif]> | ECO 3000 - Detector preamplifier and sensor |
| <![if !supportEmptyParas]> <![endif]> | ECO 3000 - Laser Unit with power supply |
<![if !supportEmptyParas]> <![endif]>
<![if !supportEmptyParas]> <![endif]>
<![if !vml]>

<![endif]>
<![if !supportEmptyParas]> <![endif]>
Copyright Nicodom 1991-2020
<![if !supportEmptyParas]> <![endif]>